Skins Summer Holiday - a review
A week ago I eventually had an opportunity to read, for the first time, second Skins novel called Summer Holiday. Despite not that original title the novel was supposed to revealed some unknown (yet anticipated) details about characters of the third generation of "the E4 cult TV series", as claims cover description. I like Skins, and I like third generation in particular, so I decided to give Skins Summer Holiday a chance to convince me if it's as good as the series itself, or at least, not much worse.
Skins Summer Holiday was written by Jess Brittain (who is, by the way, daughter of Brian Elsley and sister of Jamie Brittain, two creators of the Skins series). It's rather short (288 pages) novel, describing events happening just before the beginning of the fifth season of the show. It comes in a standard format and with intriguing cover, although I would prefer to see some actual Skins characters on it (like the photo on the other side of the front cover, showing the gang in front of the church featured in S05E08 "Everyone"). Preceding story sheets you can see a few colour pictures of third generation printed on nice chalky paper. The story itself is separated into four parts: a short Prologue (which, in my opinion, is the best part of Summer Holiday), part 1 that takes place in Bristol, part 2 in Newquay and again part 3 in Bristol. Each part, except of Prologue, consists of dozen or so mini-chapters, and each of them reflects different character's POV (either original character from generation 3 or a side one). POVs are interlacing with each other but the storyline preserves its consistency. Mini-chapters are marked with the name of the character whose POV is given, time and location. However, there is an exception (again) as Franky's and Dean's POVs are distinct: the former is written in italics, without informations regarding the character, time and place, while the latter resembles other mini-chapters in all way but use of italics, like in Franky's.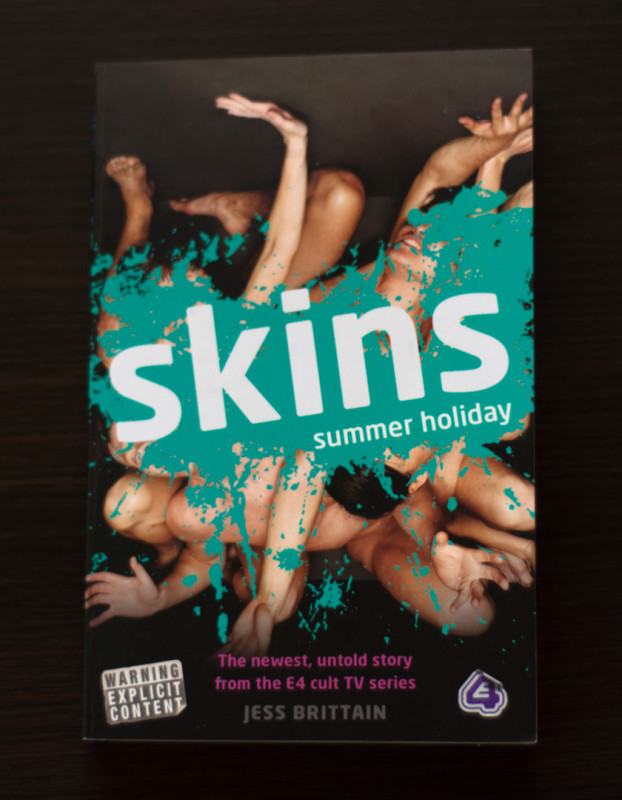 Skins Summer Holidays describes events preceding series 5 of the show. It's a good novel, yet not without some minor flaws.
Now let's go to the plot itself. As I mentioned earlier, Skins Summer Holiday describes a time of the last few weeks before the gang begins education in Roundview College, that is a month or so before the starting point of the fifth season. The main storyline describes adventures of Mini, Liv, Grace, Alo, Rich and Nick (in the decreasing order of their appearance and significance in the novel), while an independent plot for Franky acts like a counterpoint. I'm not going to reveal any major spoilers, just focus on what I liked and I disliked in the whole story.
First of all, Jess Brittain did a great job by making characters act like on a TV screen. Their personalities, behaviour, language, it is all consistent with the image we had after watching the fifth series (and, obviously, it is not consistent with series 6, as some of them went through a major overhaul). I liked particularly the way Alo behaved, almost always cheerful and hopeful, I liked how Rich played a tough nonconformist, but under his mask he was really carrying and protective for his best friend. I liked Grace and Liv, I even liked Nick, but when it came to Mini, well… it's not like I didn't like her as a character. She was acting accordingly to her TV image, the problem is, there was definitely too much Mini in the whole novel. She was the unofficial main character to the Skins Summer Holiday and when I was reading the book, even chapters written from other POVs, I had this feeling that everything revolved around her, almost like she was omnipresent. With her character so emphasised, Grace and Liv appeared as not as strong and well-defined characters as one could expect after watching the fifth season of Skins. On the other hand, a novel has its own rights and there will always be a need of accommodation when relating a piece of writing to the TV series.
Skins Summer Holiday introduces some secondary characters in a great way, too bad we only indirectly know Dean from the series itself and the rest of them - Skylar, Rhodie, Zayne or Riga - remain a mystery to us. Yet they are nicely developed even if some of them lack a proper storyline (there was too much of Zayne or Skylar and very little of Dean). Rhodie was my personal favourite and I wish she had appeared in the sixth series instead of Alex (it's nothing personal, I quite enjoyed his appearance, but I'm sure Rhodie would be so much better).
Of all original characters I should have liked Franky's plot the most because she is my favourite character from the 3rd generation. Unfortunately, her storyline wasn't developed in the way I'd expected. Don't get me wrong: it was believable, it was consistent with the series, but in some way it was… strange, I think that is a proper term. Franky was nearly the same girl we saw on Skins, but nearly doesn't mean completely. Her POV was presented as an intense introspection but there were small (yet noticeable) differences in her approach to some events described in various mini-chapters. I can't give you more details without spoiling the novel for those who haven't read it yet (although I'm pretty sure most of you have), but you can see it easily while reading. Oh, and one more thing: we know that Franky's dads last name is obviously Fitzgerald (it's written on the adoption order seen in S06E04). then why the hell in Skins Summer Holiday they are called Jeff Woodburn and Geoff Cumber?
Last but not least, there is virtually nothing about Matty in the novel. He is mentioned twice by Nick and we know nothing about his whereabouts. I understand Jess Brittain wanted to reinforce his mysterious image but I think he deserved at least one mini-chapter of his own. He is, after all, part of the gang.
Still, despite some flaws and few minor annoyances, Skins Summer Holiday is a good novel and I would recommend it to any fan of the third generation. I can't promise it will be as entertaining as watching the series but it is worth a consideration as a decent source of additional information about most of the characters and their adventures prior to the beginning of season 5.