I have been an active member of the flight simulation community since the beginning of 2018. All articles on the topic are gathered under the #flightsim tag.
Below you can see a basic summary of my flight sim activity. This page is updated on a regular basis.
Flights summary
Total time of all my flights can be seen below, along with total number of flights, total flight time under Instrument Flying Rules (IFR) and total night flight time.
| | |
| --- | --- |
| Total number of flights | 262 |
| Total flight time | 671 hours 3 minutes |
| IFR flight time | 617 hours 14 minutes |
| Night flight time | 195 hours 45 minutes |
Map of all my flights
The map below shows all my flight operations. Keep in mind that each route shows only departure and arrival airports, and does not represent the full ground track of the flight. For flights that diverted to an alternate airport only the route between departure airport and alternate airport is shown (i.e. no route to the original destination airport is visible, even if the aircraft has reached its airspace before diverting). Click on a map to see a full-resolution version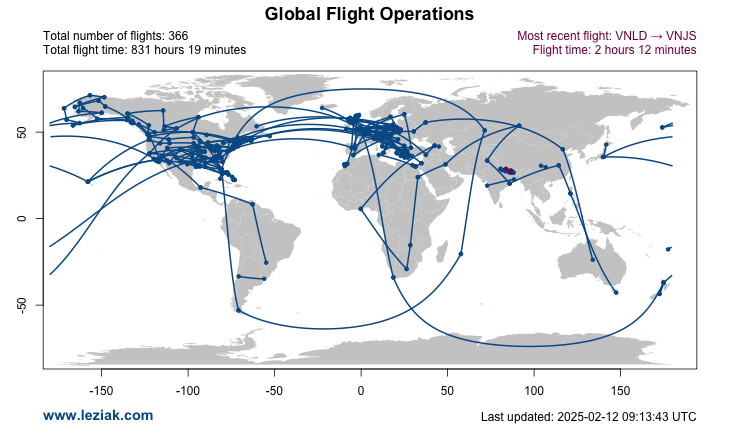 Regional maps
To see a detailed map of flights on any given continent use links below.
Fly Virtual
I am a member of a virtual airline affiliated with the VATSIM network called Fly Virtual. Fly Virtual logs flight time of their pilots using smartCARS system. You can check my current flight time accumulated with the airline below. These data update in real-time after each completed flight. Click on the image to see a list of all my Fly Virtual flights. Please note that I do not log all of my flights using smartCARS, therefore some flight operations will be missing there.
Logbook
While I use a paper Jeppesen logbook to register all my flights, you can view a basic list of flight operations here:
| Flight No. | Date | Departure | Arrival | Aircraft | Flight time |
| --- | --- | --- | --- | --- | --- |
| 1 | 09/02/18 | EPLB | EPPC | C172 | 1:08 |
| 2 | 16/02/18 | EPLB | EPRZ | C172 | 1:08 |
| 3 | 17/02/18 | EPLB | EPRZ | C172 | 1:21 |
| 4 | 18/02/18 | EPWA | EPLB | C172 | 1:15 |
| 5 | 24/02/18 | LOWI | LOWI | C172 | 0:46 |
| 6 | 25/02/18 | EPWA | EPLB | C172 | 1:07 |
| 7 | 02/03/18 | EPLB | EPLB | C172 | 0:50 |
| 8 | 04/03/18 | EPLB | EPRZ | C172 | 1:31 |
| 9 | 09/03/18 | KDKX | KDKX | C172 | 0:18 |
| 10 | 09/03/18 | KDKX | KTRI | C172 | 0:39 |
| 11 | 10/03/18 | KTRI | KCHA | C172 | 1:52 |
| 12 | 11/03/18 | KCHA | KDKX | C172 | 1:00 |
| 13 | 12/03/18 | KDKX | NC06 | C172 | 1:06 |
| 14 | 12/03/18 | KSTL | KCOU | C172 | 1:00 |
| 15 | 17/03/18 | KCOU | KDFW | P180 | 2:32 |
| 16 | 18/03/18 | KDFW | KLCH | P180 | 1:55 |
| 17 | 18/03/18 | KLCH | KDFW | P180 | 1:09 |
| 18 | 23/03/18 | KDFW | KIAH | P180 | 0:51 |
| 19 | 24/03/18 | KIAH | KMEM | P180 | 1:43 |
| 20 | 25/03/18 | KMEM | KDFW | P180 | 1:56 |
| 21 | 31/03/18 | KDFW | KMEM | P180 | 1:33 |
| 22 | 06/04/18 | KMEM | KICT | P180 | 1:44 |
| 23 | 07/04/18 | KICT | KDFW | P180 | 1:26 |
| 24 | 08/04/18 | EPLB | EPRZ | C172 | 1:27 |
| 25 | 29/04/18 | EPGD | EPGD | C172 | 0:30 |
| 26 | 01/05/18 | EPRZ | EPLB | C172 | 1:06 |
| 27 | 11/05/18 | KDFW | KICT | P180 | 1:19 |
| 28 | 12/05/18 | KICT | KROW | P180 | 1:56 |
| 29 | 14/05/18 | KROW | KDFW | P180 | 2:01 |
| 30 | 19/05/18 | KDFW | KROW | P180 | 1:50 |
| 31 | 25/05/18 | KROW | KIAH | P180 | 1:59 |
| 32 | 27/05/18 | KIAH | KDFW | P180 | 1:10 |
| 33 | 31/05/18 | KSEE | KAVX | C208 | 0:44 |
| 34 | 01/06/18 | KAVX | KSBA | C208 | 0:40 |
| 35 | 03/06/18 | EPLB | EPLL | C172 | 1:29 |
| 36 | 10/06/18 | KSBA | KCRQ | C208 | 1:06 |
| 37 | 15/06/18 | KCRQ | KUDD | C208 | 0:33 |
| 38 | 15/06/18 | KUDD | KCNO | C208 | 0:33 |
| 39 | 16/06/18 | KCNO | KPSP | C208 | 0:35 |
| 40 | 16/06/18 | KPSP | KCNO | C208 | 0:33 |
| 41 | 16/06/18 | KCNO | KHND | C208 | 1:07 |
| 42 | 16/06/18 | KHND | KSEE | C208 | 1:22 |
| 43 | 28/07/18 | KDFW | KSJT | P180 | 1:06 |
| 44 | 01/08/18 | KPBI | KFLL | P180 | 0:24 |
| 45 | 05/08/18 | EPWA | EDDB | C172 | 3:56 |
| 46 | 06/08/18 | EPLB | EPRZ | C172 | 1:15 |
| 47 | 07/08/18 | EDDB | LKKV | C172 | 2:00 |
| 48 | 02/09/18 | LKKV | LOWS | C172 | 1:55 |
| 49 | 28/09/18 | LOWS | LOWZ | C172 | 0:56 |
| 50 | 05/10/18 | LOWZ | LOWI | C172 | 0:52 |
| 51 | 04/11/18 | LOWI | LSZS | C172 | 1:00 |
| 52 | 20/12/18 | LSZS | LSZL | C172 | 0:39 |
| 53 | 31/12/18 | LSZL | LSZC | P180 | 0:20 |
| 54 | 31/12/18 | LSZC | LSGS | C172 | 1:01 |
| 55 | 31/12/18 | LSGS | LSZA | C172 | 1:10 |
| 56 | 06/01/19 | LSZA | LIPB | C172 | 1:42 |
| 57 | 03/02/19 | LIPB | LOWK | C172 | 2:18 |
| 58 | 10/02/19 | LOWK | LOXZ | C172 | 0:39 |
| 59 | 17/02/19 | LOXZ | LOWS | C172 | 1:38 |
| 60 | 24/02/19 | DTTA | HECA | P180 | 3:45 |
| 61 | 17/03/19 | KATL | KCLT | C172 | 2:11 |
| 62 | 23/03/19 | EPRZ | EPLB | C172 | 1:05 |
| 63 | 14/04/19 | EPWA | EPSC | B763 | 1:03 |
| 64 | 14/04/19 | EPSC | EGSS | B763 | 1:48 |
| 65 | 24/05/19 | EGSS | EHAM | C172 | 2:07 |
| 66 | 26/05/19 | EHAM | EDDT | B763 | 1:03 |
| 67 | 02/06/19 | EDDF | EDDS | C172 | 1:24 |
| 68 | 16/06/19 | EDDS | EPKK | B763 | 1:23 |
| 69 | 07/07/19 | EPKK | EPWA | C172 | 1:35 |
| 70 | 06/09/19 | EPWA | EPMO | C172 | 0:34 |
| 71 | 06/09/19 | EPMO | EPWA | C172 | 0:19 |
| 72 | 13/10/19 | EPWA | EPMO | C172 | 0:24 |
| 73 | 26/10/19 | EPMO | ESKN | B763 | 1:35 |
| 74 | 27/10/19 | ESKN | EGSS | B763 | 2:19 |
| 75 | 24/11/19 | EGSS | EPLB | B763 | 2:17 |
| 76 | 30/12/19 | EPLB | EPWA | B763 | 0:41 |
| 77 | 30/12/19 | EPWA | EPMO | C172 | 0:34 |
| 78 | 30/12/19 | EPMO | KJFK | B763 | 9:25 |
| 79 | 03/01/20 | KJFK | LLBG | B763 | 10:20 |
| 80 | 05/01/20 | LLBG | HECA | B763 | 1:25 |
| 81 | 09/02/20 | HECA | HEBA | C172 | 1:24 |
| 82 | 09/02/20 | HEBA | HECA | C172 | 1:36 |
| 83 | 17/03/20 | EPWA | EPMO | C172 | 0:20 |
| 84 | 03/04/20 | EPMO | EGSS | B763 | 2:24 |
| 85 | 04/04/20 | EGSS | GMMX | B763 | 3:29 |
| 86 | 04/04/20 | GMMX | GMMI | C172 | 1:01 |
| 87 | 05/04/20 | GMMI | GMAD | C172 | 1:02 |
| 88 | 08/04/20 | PAKT | PAFA | C340 | 4:10 |
| 89 | 09/04/20 | PAFA | PAKP | C340 | 2:05 |
| 90 | 10/04/20 | PAKP | PAOM | C340 | 3:09 |
| 91 | 11/04/20 | PAOM | PASC | C340 | 3:00 |
| 92 | 15/04/20 | PASC | PABR | C340 | 1:20 |
| 93 | 19/04/20 | PABR | PAGM | C340 | 4:10 |
| 94 | 24/05/20 | PAGM | PASN | C340 | 2:27 |
| 95 | 21/06/20 | PASN | PACD | C340 | 1:52 |
| 96 | 26/07/20 | EPWA | EPLB | C340 | 1:04 |
| 97 | 26/07/20 | EPLB | EPRZ | C340 | 0:40 |
| 98 | 04/09/20 | EPWA | EPMO | C340 | 0:16 |
| 99 | 04/09/20 | EPMO | EPWA | C340 | 0:16 |
| 100 | 04/10/20 | EPWA | EPMO | C340 | 0:17 |
| 101 | 04/10/20 | EPMO | EPWA | C340 | 0:15 |
| 102 | 30/01/21 | EPWA | EPLB | C340 | 1:14 |
| 103 | 25/02/21 | PACD | PASY | C404 | 6:25 |
| 104 | 27/02/21 | PASY | PANC | C404 | 6:01 |
| 105 | 31/03/21 | PANC | PASM | C340 | 3:19 |
| 106 | 01/04/21 | PASM | PAOT | C340 | 2:30 |
| 107 | 01/04/21 | PAOT | PAUN | C172 | 2:09 |
| 108 | 01/04/21 | PAUN | PADQ | C340 | 3:21 |
| 109 | 02/04/21 | PADQ | PAWG | C404 | 3:08 |
| 110 | 06/04/21 | PAWG | PADU | C404 | 6:30 |
| 111 | 07/04/21 | PADU | PAJN | C404 | 5:52 |
| 112 | 17/04/21 | PAJN | PASI | C172 | 2:54 |
| 113 | 18/04/21 | PASI | PAKW | C172 | 1:40 |
| 114 | 18/04/21 | PAKW | PAKT | C172 | 0:44 |
| 115 | 06/06/21 | KPBI | MYGF | C172 | 0:53 |
| 116 | 25/07/21 | MYGF | MYAT | C172 | 1:01 |
| 117 | 01/08/21 | MYAT | MYEH | C172 | 1:13 |
| 118 | 11/09/21 | MYEH | MYSM | C172 | 1:41 |
| 119 | 14/11/21 | MYSM | MYMM | C172 | 2:33 |
| 120 | 14/11/21 | MYMM | MYAP | C172 | 0:40 |
| 121 | 30/01/22 | EPWA | EPMO | C172 | 0:41 |
| 122 | 30/01/22 | EPMO | EPWA | C172 | 0:35 |
| 123 | 12/03/22 | EPWA | EPMO | C172 | 0:19 |
| 124 | 12/03/22 | EPMO | EPWA | C172 | 0:15 |
| 125 | 01/05/22 | EPWA | EPMO | C172 | 0:22 |
| 126 | 01/05/22 | EPMO | EPWA | C172 | 0:19 |
| 127 | 21/05/22 | EPWA | LOWW | C340 | 2:19 |
| 128 | 09/07/22 | EPWA | EPMO | C172 | 0:43 |
| 129 | 18/12/22 | EPMO | EPWA | C172 | 0:23 |
| 130 | 04/01/23 | KPDX | KPDX | SR22 | 0:06 |
| 131 | 05/01/23 | EPWA | EPLB | A320 | 0:43 |
| 132 | 06/01/23 | EPLB | EDDF | A320 | 2:10 |
| 133 | 06/01/23 | EDDF | LFPG | A320 | 1:13 |
| 134 | 11/01/23 | LFPG | EGLL | A320 | 0:59 |
| 135 | 20/01/23 | EPWA | EPWA | C172 | 0:07 |
| 136 | 20/01/23 | EPWA | EPKT | C172 | 2:58 |
| 137 | 25/01/23 | EPWA | EPGD | A320 | 0:50 |
| 138 | 25/01/23 | EPGD | EGPH | A320 | 2:47 |
| 139 | 29/01/23 | EGPH | EHAM | A320 | 1:31 |
| 140 | 02/02/23 | CYYT | CYQB | A320 | 2:58 |
| 141 | 03/02/23 | CYQB | CYYG | C340 | 3:03 |
| 142 | 05/02/23 | CYYG | CYUL | A320 | 1:51 |
| 143 | 06/02/23 | CYUL | CYHZ | A320 | 1:41 |
| 144 | 09/02/23 | CYHZ | CYYZ | A320 | 2:26 |
| 145 | 09/02/23 | CYYZ | CYQM | A320 | 1:47 |
| 146 | 10/02/23 | CYQM | CYOW | A320 | 1:28 |
| 147 | 14/02/23 | CYOW | CYQT | A320 | 1:51 |
| 148 | 15/02/23 | CYQT | CYWG | A320 | 1:08 |
| 149 | 15/02/23 | CYWG | CYYQ | A320 | 1:49 |
| 150 | 17/02/23 | CYYQ | CYEG | A320 | 2:13 |
| 151 | 18/02/23 | CYEG | CYXE | A320 | 1:10 |
| 152 | 22/02/23 | CYXE | CYYC | A320 | 0:58 |
| 153 | 23/02/23 | CYYC | CYZF | A320 | 1:56 |
| 154 | 24/02/23 | CYZF | CYXY | A320 | 2:07 |
| 155 | 28/02/23 | CYXY | CYXS | A320 | 1:44 |
| 156 | 01/03/23 | CYXS | CYYJ | A320 | 1:29 |
| 157 | 02/03/23 | CYYJ | CYLW | A320 | 1:04 |
| 158 | 11/03/23 | CYLW | CYXT | A320 | 1:33 |
| 159 | 11/03/23 | CYXT | CYVR | A320 | 1:14 |
| 160 | 14/03/23 | SGES | SVPR | A320 | 5:46 |
| 161 | 15/03/23 | SVPR | MMVA | A320 | 4:35 |
| 162 | 16/03/23 | MMVA | KLAS | A320 | 4:24 |
| 163 | 17/03/23 | KLAS | CYUL | A320 | 4:47 |
| 164 | 17/03/23 | CYUL | LSZH | B763 | 6:59 |
| 165 | 18/03/23 | LSZH | LESA | C340 | 5:06 |
| 166 | 19/03/23 | LESA | EGPE | A320 | 2:34 |
| 167 | 19/03/23 | EGPE | LTAJ | B763 | 4:41 |
| 168 | 20/03/23 | LTAJ | UGKO | B763 | 1:22 |
| 169 | 20/03/23 | UGKO | UGTB | C404 | 0:51 |
| 170 | 21/03/23 | UGKO | DGAA | B763 | 7:56 |
| 171 | 22/03/23 | DGAA | FABL | B763 | 6:27 |
| 172 | 23/03/23 | FABL | FLKK | A320 | 2:49 |
| 173 | 23/03/23 | FLKK | HESN | B763 | 5:47 |
| 174 | 26/03/23 | HESN | OIAW | A320 | 2:48 |
| 175 | 27/03/23 | OIAW | UNAA | B763 | 5:09 |
| 176 | 28/03/23 | UNAA | OPIS | A320 | 3:49 |
| 177 | 29/03/23 | OPIS | VEBS | C404 | 5:14 |
| 178 | 30/03/23 | VEBS | ZHHH | A320 | 4:10 |
| 179 | 30/03/23 | ZHHH | RPLL | A320 | 3:08 |
| 180 | 31/03/23 | RPLL | YMHB | B763 | 8:06 |
| 181 | 01/04/23 | KDEN | KSFO | B763 | 2:30 |
| 182 | 02/04/23 | KSFO | EGLL | B763 | 10:47 |
| 183 | 04/04/23 | EGLL | FACT | B763 | 11:45 |
| 184 | 05/04/23 | FACT | NZAA | B763 | 14:36 |
| 185 | 12/04/23 | NZAA | NZCH | A320 | 1:12 |
| 186 | 12/04/23 | NZCH | NZAA | A320 | 1:20 |
| 187 | 12/04/23 | NZAA | KSFO | B763 | 13:15 |
| 188 | 16/04/23 | KSFO | KTTS | A320 | 5:04 |
| 189 | 17/04/23 | KTTS | MUVR | A320 | 1:27 |
| 190 | 17/04/23 | KTTS | UACC | B763 | 13:07 |
| 191 | 19/04/23 | UACC | FIMP | B763 | 10:24 |
| 192 | 24/04/23 | FIMP | SCCI | B763 | 14:53 |
| 193 | 27/04/23 | SCCI | KTTS | B763 | 12:06 |
| 194 | 28/04/23 | KTTS | CYWG | B763 | 4:41 |
| 195 | 02/05/23 | CYWG | KBFI | A320 | 3:24 |
| 196 | 03/05/23 | KBFI | KPSP | A320 | 2:40 |
| 197 | 04/05/23 | KPSP | KTUS | A320 | 1:04 |
| 198 | 04/05/23 | KTUS | KDEN | A320 | 2:11 |
| 199 | 05/05/23 | KDEN | KATL | A320 | 2:54 |
| 200 | 10/05/23 | KATL | KCLT | A320 | 0:45 |
| 201 | 10/05/23 | KCLT | KDAY | A320 | 1:26 |
| 202 | 13/05/23 | KDAY | KOSH | A320 | 1:26 |
| 203 | 13/05/23 | KOSH | CYOW | A320 | 1:42 |
| 204 | 13/05/23 | CYOW | KIAD | A320 | 1:40 |
| 205 | 14/05/23 | KIAD | LEMD | B763 | 7:24 |
| 206 | 17/05/23 | LEMD | EGGD | B763 | 2:05 |
| 207 | 17/05/23 | EGGD | EGGD | B763 | 0:11 |
| 208 | 22/05/23 | EGGD | LFPG | B763 | 1:18 |
| 209 | 22/05/23 | LFPG | EGSS | B763 | 1:05 |
| 210 | 24/05/23 | EGSS | LOWS | B763 | 2:15 |
| 211 | 24/05/23 | LOWS | EPKK | B763 | 1:16 |
| 212 | 25/05/23 | EPKK | UKKK | B763 | 1:23 |
| 213 | 25/05/23 | UKKK | UUWW | B763 | 1:19 |
| 214 | 26/05/23 | UUWW | ZBAA | B763 | 6:58 |
| 215 | 28/05/23 | ZBAA | YBAS | B763 | 9:16 |
| 216 | 31/05/23 | LGSM | LGMK | PZ4M | 1:21 |
| 217 | 31/05/23 | LGMK | LGML | PZ4M | 0:56 |
| 218 | 01/06/23 | LGML | LGSR | PZ4M | 0:48 |
| 219 | 01/06/23 | LGML | LGSR | SR22 | 1:01 |
| 220 | 01/06/23 | LGSR | LGPL | PZ4M | 0:39 |
| 221 | 02/06/23 | LGPL | LGKY | PZ4M | 0:35 |
| 222 | 02/06/23 | LGKY | LGRP | PZ4M | 1:05 |
| 223 | 02/06/23 | LGRP | LGKP | PZ4M | 1:01 |
| 224 | 05/06/23 | LGKP | LGLE | PZ4M | 1:24 |
| 225 | 07/06/23 | LGLE | LGNX | PZ4M | 0:52 |
| 226 | 07/06/23 | LGNX | LGSO | PZ4M | 0:26 |
| 227 | 09/06/23 | LGSO | LGKS | PZ4M | 1:32 |
| 228 | 13/06/23 | LGKS | LGKC | PZ4M | 2:19 |
| 229 | 14/06/23 | LGKC | LGZA | PZ4M | 1:25 |
| 230 | 14/06/23 | LGZA | LGKF | PZ4M | 0:27 |
| 231 | 15/06/23 | LGKF | LGSK | PZ4M | 1:52 |
| 232 | 15/06/23 | LGSK | LGSY | PZ4M | 0:39 |
| 233 | 15/06/23 | LGSY | LGLM | PZ4M | 0:53 |
| 234 | 19/06/23 | LGLM | LGMT | PZ4M | 1:03 |
| 235 | 19/06/23 | LGMT | LGPA | PZ4M | 1:29 |
| 236 | 21/06/23 | LGPA | LGKJ | PZ4M | 2:03 |
| 237 | 26/06/23 | KLAX | KORD | A320 | 4:01 |
| 238 | 27/06/23 | LJLJ | LEMG | A320 | 3:36 |
| 239 | 29/06/23 | PHNL | KLAX | A320 | 5:35 |
| 240 | 30/06/23 | VABB | VECC | A320 | 2:31 |
| 241 | 29/07/23 | LEMG | LFOB | A320 | 2:26 |
| 242 | 02/08/23 | KLAX | RJAA | A346 | 12:08 |
| 243 | 03/08/23 | RJAA | RJCC | A320 | 1:38 |
| 244 | 03/08/23 | LFOB | LBPD | A320 | 2:51 |
| 245 | 04/08/23 | LBPD | EBBR | A320 | 3:03 |
| 246 | 05/08/23 | EDDB | LFPG | A320 | 1:46 |
| 247 | 08/08/23 | KMCO | KATL | A320 | 1:32 |
| 248 | 09/08/23 | EBBR | LRTR | A320 | 2:12 |
| 249 | 10/08/23 | LRTR | EGLL | A320 | 3:12 |
| 250 | 26/08/23 | EDDB | CYYR | A346 | 6:31 |
| 251 | 30/08/23 | RJTT | PHNL | A346 | 7:11 |
| 252 | 30/08/23 | KMEM | NFFN | A346 | 14:38 |
| 253 | 02/09/23 | KMIA | KLAX | A320 | 6:07 |
| 254 | 02/09/23 | KLGA | KORD | A320 | 2:00 |
| 255 | 05/09/23 | KLGA | KCLT | A320 | 1:42 |
| 256 | 06/09/23 | KDAL | KMIA | A320 | 2:27 |
| 257 | 07/09/23 | SUMU | SCEL | A320 | 2:22 |
| 258 | 07/09/23 | CYUL | CYWG | A346 | 2:48 |
| 259 | 08/09/23 | EGLL | BIKF | A320 | 3:01 |
| 260 | 09/09/23 | LGAV | KIAD | A346 | 12:18 |
| 261 | 10/09/23 | KIAD | KSLC | A320 | 4:46 |
| 262 | 11/09/23 | ZUCK | ZUUU | A320 | 0:41 |